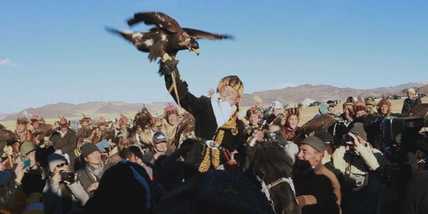 Aisholpan is only one girl in the Mongolia who is starting to learn how to train and hold eagle. She is from eagle hunter's family. In her family starting from grand grandfather to her father and 2 younger brothers of her father are eagle hunters. This Kazakh tradition is taking its new beginning from this family. Father of Aisholpan who is main trainer of her says that "Eagle Hunting" is in their blood.
Step aside Daenerys and Katniss, Aisholpan is a real life role model on an epic journey in a far away world. Follow this 13-year-old nomadic Mongolian girl as she battles to become the first female to hunt with a Golden Eagle in 2,000 years of male-dominated history.
HOW AISHOLPAN BECAME AN EAGLE TRAINER? ​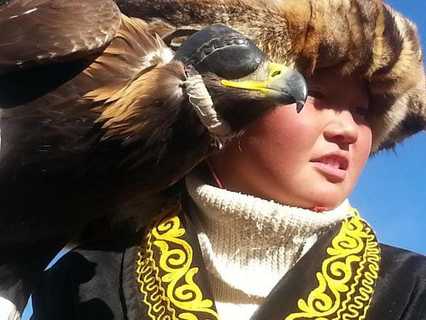 After her older brother is gone to Army to complete his military service, Aisholpan was at home as only one elder child that family have in their home. She has all the responsibility of the family. She was helping to mother, she was helping to father to bring horses, look after the animals and everytime she was feeding and looking after the Eagle when her father was away and that was the start of all this history!
Today Aisholpan proved that she is real huntress and her young eagle just caught her first fox on high Altai Mountains! 
She is youngest huntress in the world who is playing with real dangerous wild toys!  
HOW WESTERN MONGOLIA TOUR LLC TEAM INVOLVED TO THE EAGLE HUNTRESS?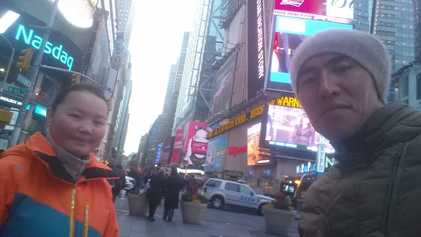 Baldyrgan who is owner and founder of the tour agency "WESTERN MONGOLIA TOUR LLC" have been working as interpreter and manager in western Mongolia when Otto Bell was making a documentary about Aisholpan's life story. Our tour agency were providing Otto with vans, drivers and organizing lodgings.